*Currently not on display.
Since June 6th 2012, two of the displays created for the 8th Louvre – DNP Museum Lab Presentation in Tokyo (October 2011–March 2012) have been installed to Paris, where they are on display at the Louvre, in the permanent galleries of the Egyptian Antiquities, one of the most popular departments in the museum.
This development is a result of the relocation last year of displays devoted to Sèvres porcelain, but as these had been installed in temporary exhibition spaces while awaiting the opening of new galleries devoted to 18th-century decorative arts, this is the first time that the multimedia displays designed for Museum Lab have been accommodated in the galleries of the Louvre's permanent collections.
The first display, positioned at the beginning of the chronological section of the Egyptian collections, provides insights that will enrich a visit to the collection as a whole. The second is installed in the study gallery devoted to Egyptian funerary stelae. By deciphering one stela in particular, it enables visitors to gain a better understanding of all the stelae on display. During the development of these installations, particular attention was paid to integrating them with the spaces where the works are exhibited. The Department of Egyptian Antiquities is thus very pleased to welcome them into the context for which they were designed.

Discover the conventions of Egyptian art through works in the Louvre's collection
Ever since it was installed numerous visitors have gathered around the interactive table, made up of four touch screens that offer activities illustrated with works from the Louvre's collections, to gain a better understanding of the meaning of the distinctive visual conventions of Egyptian art. They could be seen happily sharing the fruits of their discoveries, and exploring the visual conventions in order to get more enjoyment from their visit.
Deciphering an Egyptian stela
The second device is installed in one of the "study galleries" which, in parallel with the main displays of Egyptian antiquities, provide an in-depth exploration of a particular subject, slightly off the beaten track followed by the majority of visitors. The gallery of room 23 is devoted to the study of the Egyptian funerary stelae in the Louvre's collections, beginning with the Stela of Sakherty exhibited in Tokyo during the 8th Presentation.
This multimedia installation draws large numbers of children in particular, who touch the images and the hieroglyphs of the stela reproduced on the screen, and open the explanatory windows one by one, enthusiastically and assiduously deciphering the keys to a better understanding provided.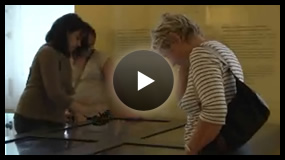 Installation of multimedia devices at the Department of Egyptian Antiquities