A little boy dressed in blue is holding a dog on a leash. Hitherto rarely shown in public,The Boy in Blue painted by Goya in 1791 may now be viewed at leisure ever since it became part of the Louvre's collections in 2009.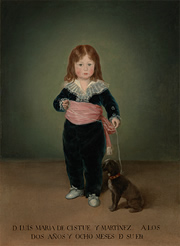 The model, Luis María de Cistué, godson of the king and queen, and future hero of the Spanish Peninsular War, is depicted here at the age of two years and eight months in a simple composition that acts as a foil to the blue and pink hues of the garment and sash, as well as to the softly suffused background lighting.
After long being handed down from generation to generation within the Cistué family, the work was purchased by American industrialist John D. Rockefeller Jr. in 1928. In the early 1980s, it became the property of fashion designer Yves Saint Laurent and Pierre Bergé. After the former's death in 2009 it was donated to the Musée du Louvre.
This is the first time that the painting is exhibited outside of the Louvre since it entered the museum's collections. The Ninth presentation, entitled El niño azul, Goya and Spanish Painting in the Louvre, offers a variety of approaches to encountering the work. Visitors are first drawn into the intimate world of the model and the collectors who owned the portrait, before joining a museum laboratory where they can observe the painting and scientifically analyse Goya's choices and his brushwork on the canvas. The tour continues with an area that conjures up the Louvre's collection of Spanish paintings where The Boy in Blue is usually to be found, introducing the great masters of Spanish painting, from Greco to Goya and Murillo, and showing how the Louvre's collection has been built up over time. At the end of the circuit, visitors are invited to give their own interpretations of Goya's work.
Ever since it left the artist's studio, The Boy in Blue has never ceased to be viewed and admired in different ways by different individuals. By discovering various ways of looking at the same picture, visitors will no doubt in turn be able to forge their own special relationship with the work.