Two types of multimedia installations developed for the Louvre-DNP Museum Lab Ninth Presentation (April–October 2012) were opened to the public on 4 July 2013 in the Spanish painting galleries of the Department of Paintings of the Louvre, located on the second floor of the Denon wing of the museum, immediately to the right of the Pyramid main entrance.

The present installations are the third and largest of this kind at the Louvre, following earlier multimedia displays installed in the Department of Decorative Arts in 2011 and the Department of Egyptian Antiquities in 2012. At the center of a gallery offering a panora of the entire Spanish painting collection is an installation of multimedia displays that assist in understanding and appreciating these masterpieces of Spanish art. In a adjoining auxiliary gallery, a second interactive display system provides an overview of the history of the collection. Together the two installations provide visitors with new ways of viewing the exhibited works as well as a chance to explore the collection's history. From the day this new interpretive system designed by Museum Lab was opened to the public, visitors flocked to enjoy and learn from these interactive multimedia displays.

Masterpieces of Spanish Painting at the Louvre
One of the new installations occupies the center of the Murillo Room, one of the spacious and imposing galleries characteristic of the Louvre, where it offers an interactive guide to nine of the masterpieces of the Louvre's collection of Spanish paintings, providing an introduction to the appreciation of Spanish art as a whole. It is hoped that by providing clues for how to "read" these masterworks, the installation will facilitate understanding of other paintings in the Spanish tradition. In order to respond to the diverse interests of museum visitors, the installation provides three different modes of access to information about the paintings they see before them—grouped by artist, title, or representative works. The visually-oriented interface enables an intuitive interaction with the informational content.
Spanish Art at the Louvre: The History of a Collection
The collection of Spanish painting at the Louvre has evolved as a reflection of a variety of historical circumstances, including the tastes of its royal collectors and the political viccissitudes of their reigns. The installation divides this history, from the seventeenth century to the present, into twelve main periods in order to deepen understanding of how the collection was formed. Using large wall-mounted display screens, the newly-installed system presents the history of the collection in the form of a chronological table which multiple users can interact with simultaneously, providing easy access to detailed information on each historical period for interested visitors.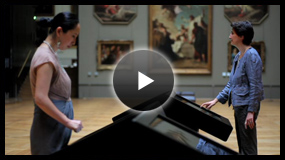 Installation of multimedia devices at the Department of Paintings