Activities

In conjunction with the opening of the "Globes in motion" exhibition、Francois Nawrocki, deputy director of the Maps and Plans Department at the National Library of France (BnF), will present a lecture.
After the lecture, participants are cordially invited to a special tour of the exhibition.
Abstract
From Ancient times to the Middlle Ages and after, scientific progress, night sky observation and exploration of faraway lands have led mankind to design geographical and cosmological representations of the world. Terrestrial and celestial globes produced mainly in the West and in the Arab world demonstrate constant trials to reconcile observation and theory, science and beliefs, craving for knowledge and understanding of the universe mysteries. At the crossroad of science, art and philosophy, the precious globes compile proven knowledge and assumptions, as consistency and perfection were sought for. The BnF collection of ancient globes, now available in a 3D digital format, depict the constantly evolving history of the world, both terrestrial and celestial, as imagined, dreamed of, interpreted, challenged and revised by mankind in the face of scientific proof.
(French-Japanese simultaneous interpretation will be provided.)
Profile of the speaker
Head library custodian François Nawrocki is presently deputy director of the BnF Maps and Plans Department. He holds a PhD degree in history from Paris Sorbonne university, and specialised in political, diplomatic and institutional history of 1530-1550 Europe. He also is the commissioner of "The World in Spheres" exhibition to be held in 2017 at Louvre Abu Dhabi.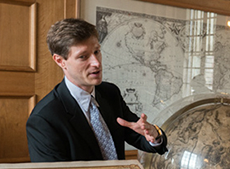 Practical information
Date

Feb.20,2016(Sat.)
Conference from 3 pm to 4 pm (doors open at 2:30 pm)
Free visit of the exhibition after the conference (closes at 6 pm)
Venue

DNP-Museum Lab
DNP Gotanda Building, 1 F
3-5-20 Nishi Gotanda, Shinagawa-ku, Tokyo

・

Six-minute walk from Gotanda Station
JR Yamanote Line (West Exit) / Toei Asakusa Subway Line (Exit A2) / Tokyu Ikegami Line

・

Seven-minute walk from Fudomae Station on the Tokyu Meguro Line
Seating is limited to one hundred people. No others may be admitted once the seats are full.
Admission free, advance reservation required.
*

The lecture will begin at the time announced. Late arrivals may disturb other participants, so there will be occasions when late entry will be denied. Please allow sufficient time to reach the venue.

*

Crowded conditions may make it necessary to wait for admission to the presentation or to specific exhibits within it.
*Each online reservation is for one person.
For further information, please contact:
DNP Museum Lab / Customer Service Center
Tel: 03–5345–0880
from 11:00–17:00 Monday- Friday
Closed on Saturdays, Syndays and national holidays
Now on display
Monday to Thursday, 11 a.m. to 5 p.m., Friday from 11 a.m. to 9 p.m. and Saturday and Sunday from 9 a.m. to 6 p.m.. Closed on weekdays' public holidays and during the end-of-year and "obon" summer holidays.
Closed for change of exhibits.
Monday to Friday, 11 a.m. to 5 p.m. Closed on Saturdays, Sundays and public holidays.