Presentation of the work : Portrait of Luis María de Cistué y Martínez (1788–1842), known as El niño azul (The Boy in Blue)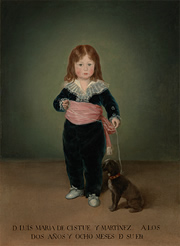 The portrait of Luis María de Cistué, also known as El niño azul due to the midnight blue colour of his costume, is one of the finest examples of Goya's child portraiture. An inscription sets the age of the model depicted at two years and eight months, thus dating the painting to 1791.
This portrait is the only known representation of Luis María de Cistué, third baron of Menglana, hero of the Spanish Peninsular War and godson of King Charles IV and Maria Luisa of Spain. With its prestigious background—the canvas remained in the Cistué family until 1928 before entering the collection of American industrialist John D. Rockefeller Jr. followed by that of Yves Saint-Laurent and Pierre Bergé—the portrait is the latest addition of a work by Goya to the Louvre's collections.
The discreet and intimate compositional setting lends a strong presence to the young model, reinforced by the halo of light surrounding his silhouette that stands out against a neutral ground. The particularly sophisticated colour palette combining midnight blue with the pink of the wide sash may have inspired a famous dress by Yves Saint-Laurent in 1983.
A great portrait painter in general, Goya depicted children skilfully and managed to express their innocence, brilliantly combining the strength of Velázquez, the softness of Murillo and the ideals of the Enlightenment.
Introduction to the artist : Francisco de Goya (1746–1828)
Francisco de Goya (1746–1828) is probably the most famous Spanish painter, along with Velázquez. A native of Saragossa, he began his career at the court of Madrid after a trip to Italy. A great portrait painter, with a gift for capturing the psychology and inner life of his models to perfection, he also produced many tapestry cartoons depicting scenes from popular life and children at play.
In 1792, an illness left Goya deaf and brought about major changes in his style of life and painting. Seven years later, the series of prints called "Los Caprichos" revealed the artist's genius in the field of printmaking, and represented an acrimonious criticism of the manners and society of his time.
1808 marked the beginning of a whirlwind of political events that compounded the turmoil of Goya's personal life. The war sparked by Napoleon's ruthless invasion of Spain was followed by Ferdinand VII's restoration of a reactionary monarchy. Goya was obsessed by the physical and moral ravages of this war. His prints and the Black Paintings that graced the walls of his house testify to his inner world, where dreams are often nightmares. In 1824, he finally decided to seek exile in France where he died, in Bordeaux, four years later.
The Musée du Louvre holds a set of seven of the master's portraits and one still life.